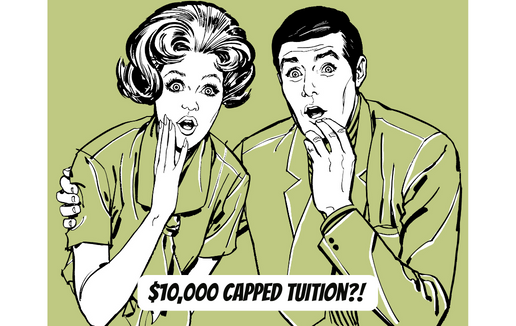 2023 - 2024 Tuition
(Tuition capped at $10,000 per family)
Kindergarten $ 2,423
1st Grade $ 3,174
2nd Grade $ 3,174
3rd Grade $ 3,662
4th Grade $ 3,662
5th Grade $ 3,739
6th Grade $ 3,813
7th Grade $ 4,282
8th Grade $ 4,282
9th Grade $ 4,508
10th Grade $ 4,552
11th Grade $ 4,552
12th Grade $ 4,552

St. Mary's Catholic School firmly believes that a Catholic education is an important component of a child's development and future. With that in mind, St. Mary's is happy to share that there is a "cap" on tuition for larger families at $10,000 to make sure that Catholic education, although a sacrifice, is not an impossibility or burden. In addition, any differentials in tuition cost for students from outside of the parish will be eliminated. We want to invite all students to attend St. Mary's Catholic School!

Financial Assistance
Because we believe in the importance of Catholic education and what St. Mary's has to offer; assistance is available for families who are unable to pay the full tuition cost. A representative of the school would be happy to meet with you to discuss your financial needs and to explain the necessary paperwork. You may call the business office at 507-794-4841 with questions or to set up an appointment. Our tuition assistance program is determined by an Eagan, Minnesota-based company, Financial Aid Independent Review, Inc (FAIR). FAIR provides independent and confidential services as it calculates each family's "Disposable Income" to determine their ability to pay tuition. Assistance is then awarded by FAIR based on need. If St. Mary's does not have enough assistance to cover the need, we will allocate the assistance on a pro-rata basis.
Click here to apply.
School Code: 124
Pswd: smse124
We also offer tuition incentive programs to help offset tuition costs, such as:
SCRIP: SCRIP is a fundraising program that allows you to earn "free money" to lower your tuition costs and support the school. "Free money" is earned every time you purchase SCRIP gift certificates and cash cards for groceries, gas, clothes, and gift purchases that you make every day. You purchase the SCRIP certificates for full face value and receive full face value when you redeem them at the participating retailers. The school buys the SCRIP at a discounted price and that discount, which turns into a profit, is split between the family and the school.
COOKIE SALE FUNDRAISER: An annual cookie sale is available to families specifically for tuition purposes. They come in boxes ready to bake, quick and easy. This is a sale you can choose to participate in. A percent from this fundraiser is credited to families' tuition statements and, the more you sell, the bigger the bonus!